Social Media Marketing
Build Brand Awareness, Traffic & Audience.
Social media solutions designed to grow with your business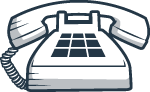 Growing a business is hard. We make it a whole lot easier, more predictable, less stressful, and more fun.
Get a One-on-One Consultation
Attract Your Audience
Targeting the right audience is key to any successful social media marketing campaign. Our social media campaigns start by identifying and targeting best the best audience for your brand.
Engage Your Audience
Your social media marketing team is dedicated to providing you with the most engaging content. We know that today's consumers want their posts tailored specifically for them, so we work hard on every post!
Grow Your Audience
Social media management is a difficult task, even for the most experienced of marketers. With so many social media platforms and complicated algorithms, it can be hard to keep up! We have years worth of experience... Let us help!
Are you losing business?
If you don't have a professional website, your business is 87% less likely to succeed.
Did You Know?
91% of social media users are accessing social channels via mobile devices.
Have a question, Not sure where to start?
Get a One-on-One Consultation