Marketing for Small, Mid-Size & Corporate
There is No One Size Fits All
Unless it's a poncho... anyone can wear a poncho!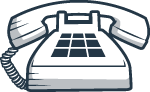 Growing a business is hard. We make it a whole lot easier, more predictable, less stressful, and more fun.
Get a One-on-One Consultation
Marketing Solutions that Scale
You need more customers? We can show you the ropes and get your new business traffic. You'll love our low-cost solutions for social media marketing, web design that is perfect to use on a team of less experienced professionals or just someone looking at getting their start in this industry without having too much overhead cost right off the bat!
Are you losing business?
If you don't have a professional website, your business is 87% less likely to succeed.
WE OFFER SO MUCH... AND MORE!
If you want to be ahead of the competition, then give us a call. We offer so much more than just a good looking website or a nice logo; we are committed for the long haul in order bring your company success!
DESIGN
Branding
Graphic Design
UX Design
TECHNOLOGY
CMS Integration
API Development
MARKETING
Blogging Services
Email Marketing
"YOU'RE ONLY LIMITED WHEN THERE'S NO
PRESSURE PUT UPON YOURSELF"
You won't find a more loyal or committed team than ours. We are always here for our clients, no matter what the task may be! We have all sorts of services that can help your business reach new heights in today's competitive market - and if there is anything else you need then let us know because we want to do everything possible just make sure YOU succeed. It's our goal to be reliable partners in today's market!
10 REASONS WHY SEO DOESN'T WORK
There are many reasons why SEO doesn't work, but it's not your fault. Here is a list of 10 common ones that you can try to fix!
Let's Get Started!
We're passionate about building the ideal custom approach for your brand that your customers will remember. From SEO-driven web design to expertly crafted copy and social media campaigns to awesome websites, it's our mission to take your business to the next level.